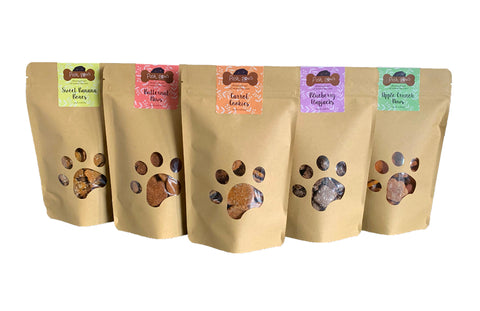 Homemade dog treats for healthy, happy pooches.
We never leave a good dog behind, and our healthy dog treats fulfil key dietary requirements, are completely natural, and tickle every breed's tastebuds.
Perfect for picky eaters, stinky breathers, and allergy sufferers, our products are 100% natural, 100% delicious, and bring joy to dogs around the UK.
Even the most demanding dogs love our products as a treat or as a complement to their main meals, and you will too.
Why? Because all of our natural dog treats are made with zero preservatives, additives, or unnatural colourings. They're also vegan and hypoallergenic across the board, not to mention delicious, and they're the perfect way to please your pet.
Visit the link below to explore the Posh Paws dog treat line-up.
Our Offers
Have a look at our current best offers
Introducing
Our opening deal
Buy any 3 treat bags for just £6
Introducing
Our Offers
Buy one small treat jar and get one treat bag for £1
Introducing
Our Offers
Buy one large treat jar and get two treat bags for £1 each
Posh Paws healthy dog treats. Baked with love and packed with benefits.
Posh Paws healthy dog treats are homemade in our dog bakery, where only the best will do. 
Brimming with quality and baked to suit every pooch's palette, pups of all shapes and sizes love our nutritionally dense, natural dog treats and complementary dog food products.
In fact, they're so delicious, you'll probably want to give them a try yourself! To be fair, they are made up of human grade ingredients, and we aren't ones to judge.
Why choose Posh Paws Bakery?
Posh Paws was established to meet the demand for tasty, healthy dog treats that are difficult to find in shops. Every treat we make is homemade and packed with nutritional benefits, and the attention to detail we bring to the table is unmatched.

We bring the same love you have for your dog to every healthy dog treat we bake. That's why our vegan dog treats are suitable for all breeds, with fantastic flavour profiles across the board and 100% natural ingredients in every bite.

We want all dogs to be happy!
Each and every one of our healthy homemade dog treats is purposefully designed for all dog breeds. This means that every canine can be healthy, have their nutrition needs taken care of, and be as happy as possible with Posh Paws Bakery.
Get in touch with Posh Paws Bakery
Eager to find out more about our range of natural dog treats and complementary dog food? Maybe you need a bespoke order for a furry friend's special occasion.
No matter what it is, we're just an email, message, or phone call away.
Find out all the ways you can get in touch at the link below.